Why rave7™

rave7™ is a world class CMS you can use to build dynamic websites quickly and easily. But we don't stop there. It's packed with plugins you can use to add functionality to your sites like blogs, news, image galleries, member management, forms etc, but we don't stop there.

It includes full Life Cycle relationship management, from CRM-driven Multi-Channel Marketing to eCommerce, creative Communications and automated Help Desk support, but we don't stop there. Please visit our corporate site for more information about these modules.

rave7™ is not just about being a great CMS. It's a solution that empowers you to service your customers in new and exciting ways helping you to grow your business.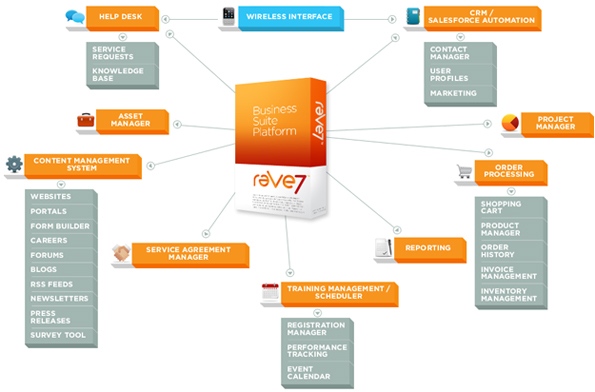 Here's how rave7 works for you

100% web based. Use our hosting service or install it on your server. It's accessible from any internet-enabled computer anywhere in the world by or your customers.




One Platform Many Modules (Major Modules)

Content Management, Contact Management, Marketing, Help Desk, Order Management, Calendar/Training Management, Project Management plus many more. Choose the modules you need.




Flexible

rave7 was built from the ground up with customization in mind. We dare you to find a more customizable system. Forms, table layouts, the database it's all 100% customizable. From future to current needs, rave7 is a system that will grow with you year after year.




Feature-rich

CMS, Help Desk, CRM are the major modules. But you also enjoy calendar/training management, reporting, asset management, order processing, project management and more.



Affordable

24/7 Customer Self-Service allows you to save on administration costs. Pricing matches your workload requirements because it's scalable and based on the number of concurrent users.



Form Designer

Rave7 has a very sophisticated form designer. Not the run of the mill top down basic kind. You can create stunning forms, customized with Javascript, ColdFusion code and modules, images etc. Our forms can submit information via email, direct to any database, create leads in the Customer Database, etc.


OVERVIEW
Anyone you give access to can add or edit web pages in a hierarchical tree structure with unlimited branches
Use a WYSIWYG MS-Word like rich text editor to edit web pages
Upload images for web pages directly using our media manager
Add videos from youtube and other online video sites to the media manager
Used staged pages so you can make changes without making them public
Keep a history of every version of every page, and you can switch to any version at any time
Integrated search for web site visitor that searches all public web pages
Use security to grant edit rights of a specific page to a specific person. You can also allow specified people to edit a page and all it's sub-pages.
There's no programming required, but you can use your Coldfusion skills to enhance the system.
Pages can include rich content like images and flash.
Reuse content. You can create a page once and use it in other locations.
You can create and include surveys.
Create and include news releases with an integrated news database
You can create any number of forms with our form designer. They can be contact us forms, registration forms etc. Any type of form can be created and instantly added to any web page.
Visitors/Members can register for access to the web site's member only services. Once they submit the registration form, you can accept or reject the registration.
Includes a shopping cart with checkout to PayPal with a product database.
Create pages that require the person to be logged into the site.
You can allow your members to update their personal information
and much much more...
CRM Features

rave7 allows you to create a web site that is integrated with CRM capabilities such as:
Product pages
Support pages, Knowledge Base & FAQ's
Support forums
Download area
Surveys
Member services / System registration
Users can update their customer profile
Forgot your password
Contact management/sales-force automation
News letters, email broadcast
Unlimited form creation like contact us/feedback etc.
Product registration
Invoicing and order management
Blog
Help Desk, submit service requests,view service requests
Contact us pages, etc...
Browser Based

rave7 is 100% Web based so there's no software to install on the end-user's computer.

Graphical HTML Editor (WYSIWYG)

rave7 allows you to edit Web content without having to know HTML.


Multiple Template Support

rave7 allows you to maintain different templates for your web site which makes it great for keeping things fresh for your users. Technically, each page in the site can have a different template

Caching and Performance

rave7 uses the best-in-class page caching to optimize the retrieval of web pages from the database.

Version History

rave7 allows you to revert any saved page to its prior version

Re-Usable Content

You can create a page once and then reuse it in any other location in the web site.

Site Usage

View pie charts of the page usage of the web site

World Class Blog

Tell your story by using our world class blogging platform. Easily add new posts, approve or delete comments, and use our widget tool to visually add/delete/re-arrange widgets from the blog sidebar.

Site Map

You can include a partial or full site map on any page

Private Areas

You can create private areas of your web site base on the user having a valid service agreement for a given. product. This is a great feature for providing access to secured resource to select customers. Use it for partner areas or to provide information and/or downloads based on a valid service agreement.

Web Pages

Reorder the pages in a menu at any time, or re-locate a page to another area of the web site. You can also create pages that require the user to be logged into the site before it can be viewed. You can also create page that required the user to have a valid service agreement for a selected product before they can view the page.

Staging Area

You can save a web page to a staging area that allows you to work on a web page for a while prior to making it current. Meanwhile your users will see the last current version of the web page.